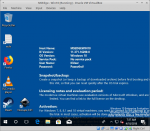 This long article explores Windows management with Salt.
First, it shows you how to automatically install software to Windows, control Windows boxes behind NAT and firewall and remotely run arbitrary PowerShell commands on Windows.
$ sudo salt '*' pkg.install gedit,firefox,steam,vlc

$ sudo salt winslave cmd.run 'Get-ChildItem C:' shell='powershell'

Later, more complicated features are looked at.