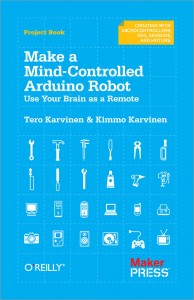 Want to make your own mind controlled robot?
I published the book today. It's available on Amazon and O'Reilly. You can have it on dead tree or DRM-free ebook. Source code is a free download on MindControl.BotBook.com.
I authored the book with Kimmo Karvinen. Ville Valtokari gave technical advice. And Brian Jepson did great job editing it.
The book has a lot of photos, as seen on previous posting. Get yours before the ink dries!
Edit: Wordings