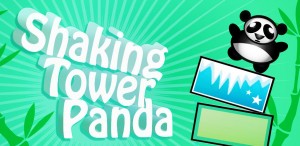 Update: Thousands of installs in just two weeks. Great review.
Save the Panda! Kimmo and Ville created a new Android game.
Panda is trapped on a tower and your goal is to get him back to the ground safely. Remove blocks and keep panda in balance by tilting your phone. Good strategy and quick fingers are needed as various formations and blocks with diverse properties complicate your mission.
Download free version (as in free beer, has ads) or buy full for 1,50 €. And if you like it, vote for it.
I've worked with Kimmo and Ville in other projects, but not in Shaking Tower Panda. Kimmo Karvinen is co-author of Make Arduino Bots (etc) and Ville Valtokari is technical advisor in Mind Controlled Robot.