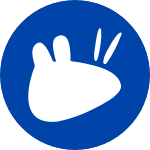 I'm using Xubuntu, also when teaching in Haaga-Helia. I just met with Pasi Lallinaho, leader of Xubuntu project.
Xubuntu is Linux distribution using the XFCE desktop. It's based on Ubuntu (and Debian), simple, light and fits on a CD. And best of all, the desktop looks conservative and obvious.
How Haaga-Helia could work with Xubuntu project:
Testing

Test Ubuntu milestone releases (eg. betas) at the right time: eg. Xubuntu Beta 2 should be tested about 2012-09-17 to 2012-09-20.
File bugs

To Launchpad Bug list
Use 'ubuntu-bug –save firefox' to collect error reports
Publish hardware details on homepage, link in bug. Short description. Could include machinotero report.
Discuss the most important bugs
Advanced students could do schoolwork with beta images

Pasi could give a visiting lecture
An article about Xubuntu in Haaga-Helia. Will be on Xubuntu.org, stay tuned.