Translate Offline with AI
Free Download - English, Arabic, Chinese, French, German, Italian, Russian, Spanish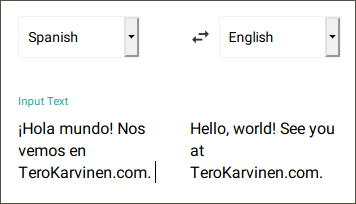 Now you can machine translate text fully offline, with no external services.
And yes, this includes the pre-trained machine learning models, works completely offline and is even Free software. So it's an nice and private alternative to Google Translate. Works with Arabic, Chinese, French, German, Italian, Russian, Spanish, Portuguese and of course English.
You can translate online to try it out before you download it.
Install LibreTranslate in 4 commands
Uncommon to some AI projects, LibreTranslate installation worked exactly as advertised on the README.
You can compile LibreTranslate in Docker. If you're on Debian or Ubuntu, you can install Docker with 'sudo apt-get update && sudo apt-get -y install docker.io'.
$ git clone https://github.com/uav4geo/LibreTranslate --recurse-submodules
$ cd LibreTranslate
$ sudo docker build -t libretranslate .
$ sudo docker run -it -p 5000:5000 libretranslate

Now, just surf to http://127.0.0.1:5000/ and translate!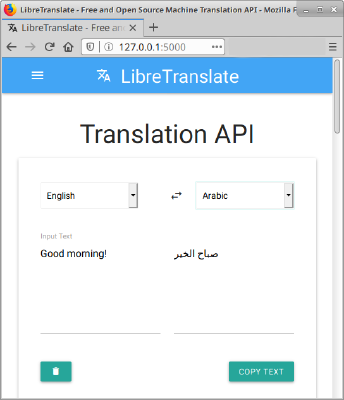 FAQ: Can I really translate offline? Yes.
Hard to believe it? Just disable Internet connection and make it translate something.
Artificial intelligence is actually intelligent this time. And the download
includes the pre-trained machine learning models. Machine learning with Python in action!
FAQ: Can I use Google Translate offline? How to use Google Translate offline?
You can use LibreTranslate completely offline and without any external services. Google Translate is not available for offline use on computers, and its 30 page privacy policy makes me wonder what data it collects. So just download and install LibreTranslate.
Lyhyesti suomeksi - Briefly in Finnish
LibreTranslate on ilmainen konekääntäjä. Sen voi siis ladata ilmaiseksi omalle koneelle ja käyttää sitä ilman nettiä.
Ilmainen konekäännös onnistuu englanniksi, venäjäksi, ranskaksi, saksaksi, kiinaksi, arabiaksi, italiaksi, espanjaksi ja portugaliksi. Ja englannista, venäjästä, ranskasta, saksasta, kiinasta, arabiasta ja italiasta. Käännös toimii parhaiten englannin ja toisen kielen välillä, muut kieliparit käännetään englannin kautta.
LibreTranslate on käytännön tekoäly Pythonilla, ja siinä on myös HTTP JSON API.
Adminstrivia: Tested with Ubuntu Linux 18.04 LTS, using the latest versions of Git repositories on 2021-02-07. I did not code or train LibreTranslate, just reporting how to download and install it.