Infra Project 2023
ICT Infrastructure project & Monialaprojekti (ICT-infrastruktuurit)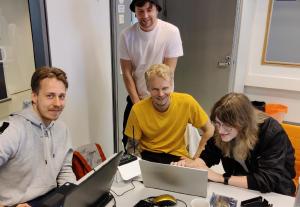 Create your own project with your team.
You'll get the whole 10 cr to build your own project.
Previous projects: evil USB keyboard, AI log analysis, physical access control, encrypted communications with free software, machine vision... What will you build?
Summary
| | |
| --- | --- |
| Course name and code: | ICT Infrastructure project pro4tf023-3010 and Monialaprojekti (ICT-infrastruktuurit) pro4tn004-3011 |
| Timing | 2023 whole autumn, periods p1 and p2. |
| Credits | 10 cr |
| Classes | Blended: physical meetings in timetable + working weekly in groups + steering meetings |
| Max students | 30 |
| Language | English (rally English accepted for our meetings) |
| Remote | No, blended: both online and in Pasila pa2004 and pa5001. |
| Feedback | Best 4.7 / 5 excellent feedback, worst 3.6 not so great. |
| Services | Moodle, Jitsi, Zoom |
| Teachers | Tero Karvinen and Harto Holmström |
| First class | 2023-08-22 w34 Tue 09:00, in Haaga-Helia Pasila pa2004 |
Presentations are in English. If you're in an all Finnish group, you can use Finnish internally. But this is a great chance to practice real-life rally English.
Only first class is separate, for the rest of the course Finnish and English groups are together.
Current projects
PhishSticks, (Atom feed) ethical attack simulation devices and apps for pentesting. Sample reverse shell already seems to pass Windows Defender with default settings and phones home.
SmartQuery
SmartFresbee
Timetable
The course consists of
Individual project work every week
Team meetings every week (or more)
Guidance meeting (teacher+group)
Meetings with all groups, listed below
| Time | Agenda |
| --- | --- |
| 2023-08-22 w34 Tue 9-12 | Kick-off (introductions, outlining project topics and project plan). pa2004. |
| 2023-08-29 w35 Tue 9-12 | Specification of the project topic, starting the project plan. pa2004. |
| 2023-09-05 w36 Tue 9-12 | Working on the project plan and finalizing the project plan, voluntary participation. pa2004. |
| 2023-09-12 w37 Tue 9-13:30 | Presentations of project plans. pa2004. |
| 2023-12-12 w50 Tue 9-13:30 | Final presentations. pa5001. |
Reserve these important whole group meetings from your calendar. In addition to these meetings, you'll be working on your project every school week.
You can schedule your group work with your group as you wish (within reason). Group and supervisory meetings have mandatory participation, and they happen at specific times.
What have they built
Like greek to me? Don't worry, since 2017 we have had projects of every level, from "dog ate my homework" to "teachers amazed". I have guided the projects with Harto Holmström, but the real work has been done by the students. You can see their names or nicks in the linked articles. On the final presentations they usually find that they could not have believed in the first day what they would succesfully build.
2022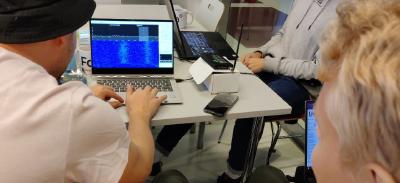 MuikkuRF - Analyze software radio with machine learning
Notihub - Backend server notification system for IoT devices
Cryptocurrency mining dashboard
2021
Bookstore for digital books (Tero's short article)
APE Attack Practice Environments
Sovereign network - on-prem email and file sharing
Smart hand sanitation solution
FOSS encrypted communication (Encryption Guide (pdf))
Private chat server on the cloud
Project Icaros - Raspberry Pi gadget to combined SDR and WiFi scanning information on a map
DigiNut - an evil keyboard hides another invisible keyboard that installs malware by typing commands (Videos: Keylogger + Duckhunt killer, Add Admin user, Tero's article.
Hostile remote control with Windows Defender avoidance (blog, Defender bypass (video))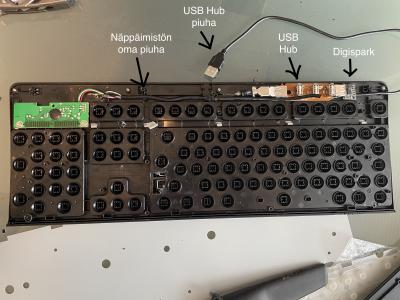 2020
AiLog - AI analysis of consolidated logs (GitHub, old blog, Youtube)
Network traffic analysis using Moloch (GitHub)
Raspberry Pi NAS
Security audit for client X
VPN gateway for Haaga-Helia labs
PiCroft smart speaker - a Raspberry Pi client for MyCroft.ai
2019
BillyStat – billiard stats with machine vision
RU@work – WiFi work time logging
DoorCam – email warning if all persons in cam are unknown
Fog – take multicast computer lab disk imaging to production
SpaceState – watch classroom usage with motion sensors

2018
LoRa Tocsin project. (Tero's article LoRa Trough 8 Floors – Using 100 mA)
Centralized logging and analysis of security logs in a network
OpenCV face recognition
Fog OS provisioning with images
Private Docker Cloud
Lumivahti - How much snow (Github)
Open source ERP (buy the book)
WiFi Penetration Testing (buy the book or download free ebook)
2017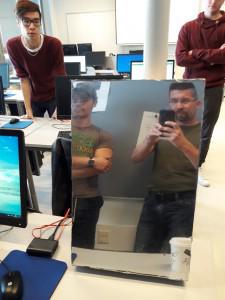 Nuotiovahti - Does the fire burn (Github). Part of Virtuaaliluonto project funded by Euroopan maaseudun kehittämisen maatalousrahasto.
VoiceVoice take my command
Kuvastin - Mirror mirror tell me who (Github, Tero's article Raspberry Mirror Shows Weather and News)
Arctic CCM configuration management with Salt, Puppet, Ansible, Chef