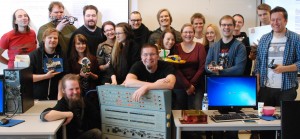 Opi rakentamaan itse keksimiäsi prototyyppejä: robotteja, varashälyttimiä, kauko-ohjaimia…
Update: check projects and feedback.

Tämä on alustavaa tietoa, joka päivittyy vielä kurssin lähestyessä. Aikataulu voi vielä muuttua.

Työpaja, intensiiviviikolla w22 joka päivä, koko päivän. Opetusta 9-16, lisäksi labra h5004 käytössä itsenäiseen työskentelyyn.
Käytämme Arduinoa. Edistyneille on tarjolla muitakin alustoja, kuten uuden uusi ESP8266.
Opit lukemaan tietoa sensoreilta (etäisyys, valo, kallistus…). Mikrokontrolleri voi ohjata tiedon perusteella laitteita (moottoreita, servoja, valoja). Ja tietysti kokonaisuuden voi yhdistää tietokoneeseen ja sitä kautta nettiin.
Tällä kurssilla ei koota rakennussarjoja. Tarkoitus on tehdä laitteita, jotka olet itse keksinyt.
Esitiedot (kertaa nämä): Ohjelmoinnin alkeet: muuttujan arvon asettaminen, suortusjärjestys, if-then-else, for, funktio. Linux: asennus, komentokehote, apt.

Kurssikirja
Karvinen 2011: Make Arduino Bots and Gadgets
(Vaihtoehtoisesti soveltaen voi käyttää myös Karvinen 2010: Sulautetut – Opi rakentamaan robotteja ja muita sulautettuja järjestelmiä.)
Linkkejä
Vanhemmilta kurssisivuilta voit lukea opiskelijoiden palautetta ja ihailla projekteja.
Moodle-sivu "prototyypin rakentaminen" (edellyttää kirjautumista).
Briefly in English
Arduino course, learn to design and build prototypes. Seven easy lessons. Robots and other embedded systems. Getting started right now? Read my book Make Arduino Bots and Gadgets.